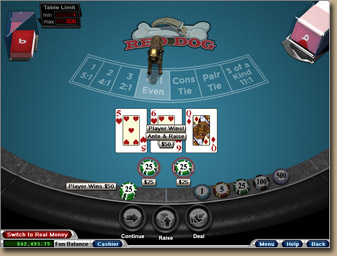 Red Dog Poker, sometimes simply called Red Dog, is a casino table game of chance. A variation of in-between or acey-deucey, it's played with one to eight standard 52-card decks.
Players start by making an ante, then two cards are dealt face up.
If the original two cards dealt are only one value apart from each other (for example, a 7 and 8), then the hand is a push.
If the original two cards are the same value, then a third is dealt and if it matches the first two the player wins at 11:1. If the third does not match then the hand is a push.
The third scenario is the most common, with the two cards having room inbetween them for a third card. A spread is announced in this case, and the odds reflect the size of the spread. A 1-card spread is very hard to hit, and will have the highest payout because of it. A 7-card spread or higher will generally pay out 1:1 but deserves a raise because of the good odds of hitting it.
To increase their own chances of winning, players should only raise on high spread hands.