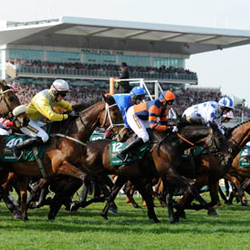 Jockeys, horses, and racing fans are all gearing up for the 2012 Grand National taking place this Saturday, April 14th at 16:15. It will be the 165th time that racers will compete in the Grand National at the Aintree Track near Liverpool.
40 jockeys and their horses will begin the race, but how many will make it to the finish is unknown in this race where falls are common.
A number of safety changes have been made in an attempt to prevent dangerous falls. Fence 1/17 will have the landing side levelled out, fence 4/20 will be reduced in height by two inches, and fence 6/22 will have its drop on the landing side reduced by five inches.
This will be the last year BBC broadcasts the race before Channel 4 takes over in 2013 for a four-year run. The BBC had partnered with the Grand National and televised every race since 1960 and aired every race on radio since 1927.

As sporting sights go, few match the sheer excitement of 40 horses thundering towards the first fence at Aintree for the John Smith's Grand National.

A race steeped in history that always provides a story, the Grand National is the ultimate test of endurance and skill for both horse and jockey, as the pairing must navigate 30 treacherous fences, and then still have enough stamina to make a challenge on the run-in.

To manage a clear round in the 4m4f epic is no mean achievement, with the fences notoriously difficult and offering unique challenges.

Over the years, there have been countless memorable moments, Devon Loch's phantom leap in the 1956 contest, Foinavon's shock 100-1 win in 1967 and the brilliance of Red Rum, who took the chase on three occasions in 1973, 74 and 77.

In 1981 Aldaniti and Bob Champion completed a heartwarming tale when winning the race, as Aldaniti had recovered from a career-threatening injury while jockey Champion had battled back from cancer.

Last season the race provided another fairytale story as Donald McCain emulated his father and Aintree legend Ginger when winning with Ballabriggs - and that came just a year after champion jockey Tony McCoy finally gained victory in the race at the 15th time of asking.
Currently Synchronised is the favorite at 8/1 odds, with several others sitting at 12/1 and 14/1. Rounding out the list are several horses with 150/1 odds, but there are always withdrawals with Reserve racers stepping up. Smart bettors will keep an eye on the list of racers and odds up until starting time.
The sites below are the biggest online sportsbooks in the business and all are taking bets on the Grand National and offer odds that are constantly updated. There are also unique bets, such as Bodog's paying out to bettors whose chosen horse comes in last, and each sportsbook offers a welcome promotion for new members.
Visit bet365's Sportsbook (bet365 Review)
Visit Bodog's Sportsbook (Bodog Review)
Visit Betfair's Sportsbook (Betfair Review)
Visit William Hill's Sportsbook (William Hill Review)