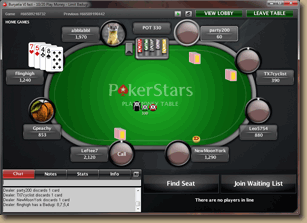 Badugi is a variation of draw poker that originated in Asia. In Badugi the lowest hand wins, but it has a different ranking system than other poker games. The absolute best hand is called a Badugi and is one with no pairs and four low cards consisting of all four suits.
Blinds
In Badugi the two players to the left of the dealer button will put in 'blinds' before the action starts. Immediately to the left of the dealer is the small blind, and to the left of that player is the big blind, usually twice the size of the small blind but not always. In online poker the blinds will be displayed by the name of the poker table.
Action
Every player is dealt four cards, face down. The first round of betting starts with the player to the left of the big blind, that player can call, raise or fold. After the first betting round all players will have the option to draw new cards, anywhere from zero to four cards can be replaced.
Once the drawing round is done a second betting round takes place. This begins with the first player still in the game to the left of the dealer button. Players can bet, check, or fold.
After the round of betting each player has the option to draw up to four new cards, they can keep all of their cards if they choose to. The action for the rest of the hand following the first round of betting and the first draw is:
2nd Betting round
2nd Draw
3rd Betting Round
3rd Draw
4th Betting Round
Showdown
Showdown
Every player is aiming for a Badugi, which is a four card hand with four different suits and no pairs. The best Badugi is 4-3-2-A of different suits. The worst Badugi would be K-Q-J-T of different suits, but this would still beat a three card hand.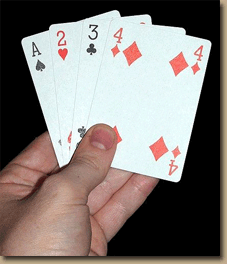 Straights are ignored in Badugi. If two players have the same highest card in a Badugi then they compare their next highest card, and so on until one of the hands is determined as the best.
If a player doesn't have all four suits in their hand, then a three card hand is determined. For example, if a player has a club, a diamond, and two hearts, then the highest heart is ignored and the other three cards make up the player's hand. Three card hands lose to any Badugi. Two card hands lose to any three card hand or Badugi. One card hands lose to everything except a higher one card hand.